If  just the thought of relaxing over a decadent weekend brunch brings you happiness, you'll bliss out over The Party Girl Diet's Weekend Brunch menu, with recipes so delicious  - no one but you will know it's actually healthy too.
Weekends offer the opportunity to relax and enjoy good food moments with your family and friends.  And with  practically every "in" restaurant and hotel around offering "Weekend Brunch" menu – "brunching" has become a favorite foodie pastime for people to get-together in a leisurely, social atmosphere.
Now while you can always go out to enjoy a tasty brunch, when you make it at home – you can control the extra fat, salt, and other ingredients that may not be healthy for you.
Traditionally, Brunch is a combination of both breakfast and lunch, and includes foods that would be served at both meals such as eggs, meats, fruits, and cheeses.  It is typically served after 10 AM – otherwise it would still be considered breakfast.
Below is The Party Girl Diet's "Weekend Brunch" Sample Menu – always feel free to change it to suit your personal tastes and food preferences – Enjoy!
Starters: The Party Girl Diet Snack Plate: Line a large flat platter lined with spring mix and top with the following ingredients to form sections:
Rolled roasted turkey and lean ham
Artichoke Hearts – whole or halved, drained
Roasted Red Peppers, and fresh, colorful sweet peppers – sliced into easy to eat pieces
Whole, no salt added nuts such as almonds and walnuts
Kalamata Olives – Drained, pitted
Goat Cheese Log, and/or an assortment of interesting cheeses
An assortment of healthy crackers and baked chips
Brunch drink options: In addition to hot and/or iced tea and coffee set up a self serve bar to make "day appropriate" alcoholic drink options such as bloody marys,  mimosas, and sangria.
Make mimosas by combining fresh squeezed orange juice and champagne or sparkling wine in glass flutes.  Garnish with a orange slice.
Make spicy bloody marys with 8 ounces low sodium tomato juice to one serving of vodka (1.5 ounces 80 proof spirits, or 1 ounce 100 proof spirits) blended with some fresh horseradish, squeeze of fresh lemon, and garnished with a celery stalk or pimento stuffed green olives on a toothpick.
Virgin (non-alcoholic) versions are also a good choice, as are pure fruit juices and naturally sugar free sparking waters and beverages.
The Party Girl Diet's Morning After Mocktail™ which was recently featured on KHON-2′s Wake Up 2-Day Live –  is a great option to serve guests who may have "over done it" in the alcohol department the night before!  Make a pitcher of this healthy elixir which replaces vitamins lost through alcohol consumption.
Check out Aprilanne Hurley's Virgin Pomegranate Sangria recipe, originally featured live on ABC 10′s Sacramento & Co:

Side Dish Suggestions:
Cesar Salad with Grilled Chicken Strips, fresh grated Parmesan cheese, home-made high fiber garlic croutons, and low-fat dressing on the side
Fresh Spinach Salad with sliced mushrooms, cherry tomatoes, turkey bacon bits, and a fruity dressing on the side such as Raspberry Vinaigrette
Fresh Fruit Salad – Made with a colorful assortment of fruits in season
Grilled Veggie Platter: Drizzle an assortment of fresh, seasonal vegetables with olive oil and sprinkle with sea salt, and fresh rosemary or herb of choice.  Think color – use an variety of colorful veggies to make the most impact!  Place under broiler on medium heat, or grill in foil for a few minutes until roasted and heated through.  Serve on a decorative platter and garnish with spring of fresh rosemary.
Whole Grain Bread Basket: Include 100% whole wheat bread,rolls, and crackers for guests looking to add a starchy carb to this meal.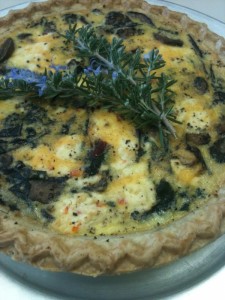 Main Events:  The Party Girl Diet's Master Crust-less Quiche Recipe:
Quiche is the perfect brunch entree as it offers the ability to include many foods that will satisfy many people.  The Party Girl Diet's Easy Master Quiche Recipe below is "crust-less," which offers less of the carbohydrates, fat, and calories than a quiche with a buttery crust.  In addition, it offers you endless combinations of your favorite veggies, lean meats, and low fat cheeses.  You can also put the filling recipe below in a frozen pie shell if you want to make a traditional quiche with a crust (pictured on left), or you can follow our "quick crust" recipe at the bottom of this page, if you want to make your own crust.
*Party Girl Diet Custom Quiche suggestions are:
Broccoli and Cheddar Cheese with braised mushrooms and onions
Braised Swiss Chard and leeks with goat cheese and chopped Greek olives
Turkey Bacon and Swiss Cheese with chopped spinach and garlic
Ham and Cheddar Cheese with braised arugula and artichoke hearts
Party Girl Diet's Master Crust-less Quiche Recipe
Ingredients
Olive Oil or Butter spray to coat bottom of the glass cooking dish ( can aslo use 2 tablespoons unsalted butter, softened if you don't have the spray – yet this will add a bit more fat)
2 tablespoons finely grated Parmesan cheese
Basic Egg Mixture:
2 cups fat free half and half or low fat milk
2 cage free, organic eggs, plus 2 large (organic, cage free) egg yolks
1/2 teaspoon sea salt
Freshly ground black pepper
Dash of cayenne for a metabolism boost, or spices of choice
Fillings:
2 to 3 cups prepared vegetables, such as red swiss chard, spinach, red onions, mushrooms, assorted colored peppers, sun-dried, fresh, or canned diced tomatoes.
4 ounces, or about 1 cup grated or crumbled cheese, such as goat cheese, Gruyere, cheddar, Parmesan, fontina, provolone, mozzarella, Gouda, (always choose low-fat if you are watching your weight, and try combining a few cheese varieties to create a tasty combination of textures and flavors).
1 to 4 tablespoons chopped fresh herbs of choice such as rosemary, chives, basil, dill, etc.
3/4 cup chopped crisp turkey bacon, diced lean ham, or Canadian bacon (substitute with more veggies if you don't want to include meat).
1 tablespoon all-purpose flour, optional, this is good to use with vegetables that release liquid during cooking, such as spinach and zucchini.
2 Tablespoons extra virgin olive oil
Preheat oven to 350 degrees F.
Coat a large, oblong, glass baking dish with the butter spray – the object is to create a non-stick surface
Sprinkle the grated Parmesan evenly on top
Whisk the half-and-half, eggs and yolks in large glass measuring cup.
Season with salt, pepper, and cayenne or spice of choice to taste.
Spread half the desired filling evenly in the pan, top with about half the cheese; repeat with remaining filling and cheese. Pour the egg mixture over the fillings. Top with more herbs or cheese as desired.
Bake until the quiche is firm (no loose egg mixture) in the center, about 40 to 50 minutes, yet begin checking at 20 – 30 minutes, as ovens types and altitudes may vary cooking times needed.  Cool to room temperature on a rack and cut into squares right before serving.
*If your quiche is vegetarian and you are serving meat-eaters – a nice way to go is to include a plate of lean turkey or chicken sausage links, peppered bacon slices, or Canadian bacon slices.
Don't forget to include a few healthy dessert options such as organic strawberries dipped in dark chocolate, and The Party Girl Diet's Super Skinny Fudge – which was recently featured on CBS and NBC's Hawaii News Now Live!
Optional Quick Crust:
1 1/2 cups bread cubes, such as sourdough
2 tablespoons unsalted butter or extra-virgin olive oil
9-inch glass or ceramic pie pan.  For a quick crust, pulse bread into crumbs in your blender or  food processor.  Heat butter or oil in large, heavy skillet.  Add breadcrumbs and stir until evenly toasted, about 5 minutes. Evenly spread crumbs in a 9-inch glass or ceramic pie pan. Place pan on a baking sheet – and proceed to layer with filling, cheese, and egg mixture as outlined above.
Aprilanne Hurley SFN, is a Certified Specialist in Fitness Nutrition, Health Expert for California Living TV, and author of  The Party Girl Diet, the revolutionary NEW diet and Lifestyle plan based on the most current health and nutrition research to date – that let's you "Keep the Party Going…While You Lose the Weight!"
Coming this season!  Aprilanne Hurley's Official Sexy Abs Diet Will Provide You with The Latest Science, Foods, Exercises, and Lifestyle Choices That Will Unlock The Secrets to Achieving The Best Abs Possible For Your Individual Body Type.
Hurley's "Sexy Abs Diet is written in an "easy to digest" format so you can immediately apply each of the 7 Secrets into your lifestyle to begin seeing and feeling results in as little as 2-Weeks!
Enjoy your life and the foods you eat while achieving the Sexy Abs of Your Dreams with Aprilanne Hurley's Sexy Abs Diet!
In the meantime, Find out how to "Keep the Party Going…While You Lose the Weight" (and uncover those sexy abs just waiting to be seen) with Aprilanne Hurley's Party Girl Diet – available on Amazon.com!
Stay Connected with our RSS Feed  for more great recipes, nutrition tips and pre-order info/release date for Hurley's Official "Sexy Abs Diet" – thanks!
Buy your copy of The Party Girl Diet on Amazon today so you can "keep the party going…and keep the weight off!
The Party Girl Diet's Crust-less Quiche Recipe originally appeared in "Real Men Do Eat Quiche" an article written by Aprilanne Hurley SFN – San Francisco Nutrition Examiner for Examiner.