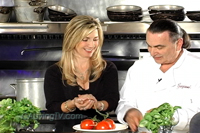 Party Girl Diet Cooking Tip:  Professional Chefs use this easy secret to create fresh, flavorful sauces and dishes:  Cook with local ingredients in season when they are at their peak of flavor and nutritional best. 
Time Saving Bonus:  Traditional Italian Tomato Sauce recipes take much longer to make than this Party Girl Diet inspired Fresh Tomato Sauce Recipe, which typically require canned tomatoes, and lots of time simmering.
Health Bonus:  The following red sauce recipe is super good for you, and tops The Sexy Abs Diet's Healthy Recipe list - thanks to Lycopene – a powerful health boosting phytonutrient found in the tomatoes known for cancer prevention and increased cancer survival rates.  Research shows Lycopene may reduce the risk of cancer by 40% – notably prostate, lung, and stomach cancers.
Watch as Party Girl Diet author Aprilanne Hurley get's the inside look at how to make Fresh Tomato Sauce with Sonoma County Executive Chef Graziano - originally airing primetime Bay Area wide on California Living™ with Aprilanne:
Easy, delicious, and good for you – what more could you ask for in a dish?  Follow these simple directions and you'll be one meal closer to whittling your middle in no time – Enjoy!
Fresh Tomato (Red) Sauce
(Serves 4)
1. Cut a small X on top of 4 ripe, large, on the vine tomatoes "place in boiling water (boil for approx. 2 minutes to blanch remove from water and pull off skin, then dice.
2. Place approximately 1/4 cup of extra virgin olive in a large saute pan and saute 3 large shallots, minced.
3. Once onions are clear in color add diced tomatoes to pan one 8 oz. glass of white wine and approximately 8 oz. of water.
4. Add 1 bunch loosely cut fresh basil and 2 tsp. each sea salt and black pepper.
5. You can simmer up to 2 hours if you want a thicker sauce.  Or, as we demonstrated in the show clip above, you can serve immediately to capture that "fresh off the vine" flavor at its peak of perfection! Serve over your favorite high-fiber whole grain pasta and enjoy!
Want an Authentic Italian Meatball Recipe to go with your Fresh Tomato Sauce? Watch how to Make Meatballs with Aprilanne today!
Coming this season!  Aprilanne Hurley's Sexy Abs Diet Will Provide You with The Latest Science, Foods, Exercises, and Lifestyle Choices That Will Unlock The Secrets to Achieving The Best Abs Possible For Your Individual Body Type.
Hurley's "Sexy Abs Diet is written in an "easy to digest" format so you can immediately apply each of the 7 Secrets into your lifestyle to begin seeing and feeling results in as little as 2-Weeks!
Enjoy your life and the foods you eat while achieving the Sexy Abs of Your Dreams with Aprilanne Hurley's Sexy Abs Diet!
In the meantime, Find out how to "Keep the Party Going…While You Lose the Weight" (and uncover those sexy abs just waiting to be seen) with Aprilanne Hurley's Party Girl Diet – available on Amazon.com!
Stay Connected with our RSS Feed  for more great recipes, nutrition tips and pre-order info/release date for Hurley's Official "Sexy Abs Diet" – thanks!