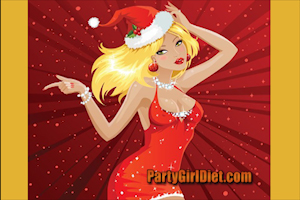 Hungry for the ultimate "Party Girl Survival Guide?'   Now you can go out with the girls, sleep in…and catch some of those awesome rays – all completely guilt free.  That's right, you'll find Party Girl Diet™ author Aprilanne Hurley's "Party Girl Survival Guide" list of  "naughty" things you can do to stay healthy sinfully delightful.
Now while we know you're probably already eating right and exercising to keep your immune system strong , the holiday season does present a time when stress can lower your resistance to viruses and germs that can make you run down and sick.  So read on to check out The Party Girl Diet's "Party Girl Survival Guide" dishing a few rather "a-typical" and surprisingly "naughty" ways to stay healthy and happy this season.
For starters, everything on the Party Girl Diet™  Party Girl Survival Guide's "naughty list" will ensure your holiday season will be extra nice.  So here we go…
Party Girl Diet's "Party Girl Survival Guide" Naughty Way to Stay Healthy #1:  Plan a Girls' Night Out.
Research shows social isolation and feelings of loneliness can weaken the immune system.  Not one for going out with the girls at night?  No problem.  You can boost your immune system by meeting a friend for lunch, taking a group fitness class…or even by just calling a friend or family member to chat.  These are all great ways to bust out of that lonely "holiday season funk" and banish the blues.  Now if you are "celebrating" out on the town, some of the healthiest, stress-busting cocktails for their anti-oxidant properties include:
Champagne Mimosas
Bloody Mary's
Red Wine
Hungry for party foods that won't ruin your diet girls?  Check out The Party GirlDiet's "Holiday Party Survival Guide" with easy and delicious party food recipes here.
Party Girl Diet's "Party Girl Survival Guide" Naughty Way to Stay Healthy #2:  Get some Sun.
Yes, here's one "naughty way" to stay healthy that may seem too good to be true since we all know too much sun exposure can lead to skin cancer, especially Melanoma, the most serious.  However, thanks to the Vitamin D our bodies produce from sun exposure, research shows you can sun-bathe (especially exposing your face and arms) guilt free for up to 10 minutes a day without sunscreen in order to produce the amount of Vitamin D your body needs to protect you from certain cancers such as lung, breast and colorectal.  So while too much sun is a real no-no, getting 10 glorious minutes of unprotected sun a day is a great way to keep the blues away and strengthen your immune system at the same time.  Outside of the above, do follow a few simple "sun worshiping guidelines" to keep your health and skin radiant:
Always have a wide brimmed hat and long sleeve cover-up handy for times when you are going to be outside for an extended period of time.
Wear a broad-spectrum sunscreen, apply liberally and often – especially if you are swimming.
Avoid the sun during the strongest hours of exposure 10 a.m. and 2 p.m.
Party Girl Diet's "Party Girl Survival Guide" Naughty Way to Stay Healthy #3:  Get Your Beauty Sleep
Reviewed in extensive detail in Party Girl Diet™ book author Aprilanne Hurley's new
Super Abs Playbook Kindle available  on Amazon.com
, proper "sleep" is one of life's free health bennies that does the mind, body and spirit a ton of good.  Shoot for about 7 – 8 hours of restful sleep for optimal health.  While we all think we can "catch up" on sleep, the truth is – sleep works its magic best when it becomes a healthy ritual and/or "way of life."  In other words, make healthy sleep a part of your life for optimal health and longevity.  Below are a few tips to help you  get a good night's sleep:
Avoid caffeine after 1 or 2 p.m. if it interferes with you sleep.
Try not to eat at least 2 – 3 hours before you go to bed.
Avoid artificial light from computer screens and other electronics which can interfere with your body's natural "clock."
Hungry for more "naughty" ways to stay healthy this season?  We'll be dishing a whole lot more "naughty" ways to "keep the party going" so check back soon and in the meantime…cheers to a healthier, happier New You in 2016 ~ Aprilanne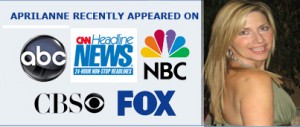 Aprilanne Hurley SFN, CLFC is a Certified Specialist in Fitness Nutrition, Certified Lifestyle Fitness Coach, author of The Party Girl Diet, and series creator and host of  California Living® - California's original lifestyle magazine TV show featuring California's trends in food, travel, and healthy living.  Hurley'sParty Girl Diet is a healthy, sustainable lifestyle plan combining today's groundbreaking health and nutrition research with Hurley's penchant for good living to deliver a revolutionary new diet and lifestyle that lets you  "Keep the Party Going" While You Lose the Weight."  Check out Aprilanne Hurley's NEW Super Abs Playbook and Socialite Diet Kindle Editions on Amazon.com
Sweet deal:  Get the Party Girl Diet™ Kindle Edition FREE with your purchase of the Party Girl Diet™ book through Amazon's Kindle Matchbook Program today!  Check out our fun TV spot on this offer currently airing in
CALIFORNIA LIVING®
with host and Party Girl Diet™ author Aprilanne Hurley: