Scoring a fit and firm bikini body is within reach with Party Girl Diet book series author Aprilanne Hurley and her CALIFORNIA LIVING™ Beach Body Workout on-demand – delivering a total body workout in just 20-minutes.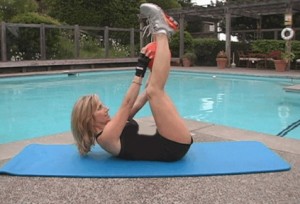 While we know that daily exercise is important to our health and wellness, sometimes it may be hard to find the time to get to the gym.  Luckily, the 3 EASY signature exercises revealed in the CALIFORNIA LIVING™ Beach Body Workout below will:
Condition your abs
Tone your thighs
Firm your buns
Tone your biceps and tricepts
The secret to the success of this workout is Circuit Training, an execution of a selected number of exercises in a determined sequence and time, with the performance of cardio bursts in between each exercise.
Check out the "CALIFORNIA LIVING™ Beach Body Workout" below any time you don't have a lot of time to exercise – or when want to get a total body workout in just 20 minutes:

Aprilanne Hurley SFN, CLFC is a Certified Specialist in Fitness Nutrition, Certified Lifestyle Fitness Coach, Health Expert & host of California Living, and author of The Party Girl Diet book series available on Amazon.com – the revolutionary new diet and lifestyle based on the most current health and nutrition research to date that lets you "Keep the Party Going…While You Lose the Weight."  Contact Aprilanne with your diet and lifestyle questions and/or to arrange your personalized weight loss consultation @aprilanne@dietdaynews.com