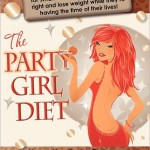 Special pricing:  Buy the Party Girl Diet book and receive The Party Girl Diet Kindle/E-book Edition for FREE!
Bruschetta, pronounced (brus'ketta) is an appetizer which dates back to at least 15th century Italy.  There are many topping variations, although the most popular and well known is a topping consisting of olive oil, fresh basil, chopped fresh tomatoes, garlic, and cheese.
The Party Girl Diet Bruschetta is one of 2-weeks of easy, nutritious, and delicious recipe from Aprilanne Hurley's best seller The Party Girl Diet – available on Amazon!
To make The Party Girl Diet Brushetta:
Step #1:  Split open a loaf of whole grain bread (ideally) or healthiest version of sour dough or French bread you can find & drizzle with olive oil.
Step #2:  In a separate bowl, combine: 4 -6 firm, ripe Roma or beefsteak tomatoes – chopped, with a few (2 or 3) chopped garlic gloves, about a half cup olive oil, and a cup of chopped fresh basil leaves.   Use a bit of sea salt and fresh black pepper to taste. Stir well until all the ingredients are blended well.
Step #3:  Spread the tomatoes mixture on the open bread halves , sprinkle with fresh, shredded mozzarella, parmesan, or crumbled goat cheese (Pictured on the left).
Set # 4:  Place under the broiler for a just a few minutes until the cheese melts and the tomatoes are heated through.  Keep an eye on it as it will cook rather quickly – which is one of the reasons this is such a fabulous quick and easy appetizer dish to make!
Cut into 1 – 2 inch slices and serve warm for the best results.  It is interesting to note, many people enjoy Bruschetta cold as well!  One recipe makes topping for one long loaf of bread, which should yield approximately 18 – 20 pieces of Bruschetta.   It is pretty yummy stuff so plan on making approximately 2 pieces per guest (one serving), doubling the recipe above to suite your needs – Enjoy!   Aprilanne
Health Benefits of The Party Girl Diet Bruschetta:  The Party Girl Diet Bruschetta Recipe contains 3 of the Top Ten Foods proven to enhance health and longevity (video link):  Tomatoes, garlic, and olive oil.  Basil is an excellent source of vitamin K (60%), and a very good source of iron, calcium and vitamin A. In addition, basil is a good source of dietary fiber, manganese, magnesium, vitamin C and potassium.
The Party Girl Diet's Bruschetta Recipe is one of 2-Weeks of Easy, Tasty, & Healthy 10-Minute Recipes in The Party Girl Diet Book available on Amazon!  Order your copy of The Party Girl Diet on Amazon.com
Aprilanne Hurley – Health & Wellness Expert
In Fitness & Nutrition, Hurley has earned certifications as a Specialist in Fitness Nutrition and Lifestyle Fitness Coaching. Hurley is also Certified in Optimal Health, Wellness & Sports Nutrition through San Diego State University.
Aprilanne Hurley is the author of the ongoing Party Girl Diet ™ book series available on Amazon.com. Hurley's media credits include live appearances on ABC, CBS, NBC & FOX networks to discuss her Party Girl Diet's Mediterranean lifestyle inspired game-changing diet & workout guides.
Aprilanne Hurley is on a mission to provide people of all ages the information they need to live longer, healthier and happier lives through healthy lifestyle choices. "My passion is nutrition," offers Hurley, "and when it comes to living a healthy lifestyle – with The Party Girl Diet – you really can have it all…just in moderation of course!"
In the community, Hurley was an early adapter and Registered Chef with First Lady Michelle Obama's Chef's Moves to Schools Program, an initiative under The First Lady's LetsMove! Campaign. In her role as a Registered Chef with the Chef Moves to Schools Program, Hurley created and executed a program to teach at risk parents with adolecent children how to cook healthy on the Island of Oahu, Hawaii. Program success highlights include 2 groups of families receiving Hurley's nutritional instruction advancing to move out of temporary shelters and into permanent housing two years in a row.
Hurley also created and implemented an interactive, action based learning ciriculum to teach local California students the "Health Benefits of Cooking with Fresh, Local Ingredients".
About The Party Girl Diet: The Party Girl Diet offers a revolutionary Diet & Lifestyle Plan based on the most current health and nutrition research available to date.
While the name is fun – The Party Girl Diet is not a "fad diet" – it is a healthy, sustainable, NEW lifestyle that let's you – Eat Chocolate, Drink Red Wine, and Enjoy a wide variety of delicious foods AND LOSE WEIGHT – While You're Having the Time of Your Life."
Content on this site is provided for educational and informational purposes.  It is not intended to cure, treat, or diagnose any disease or illness.  Please consult with your health care provider prior to starting any new diet or exercise program.