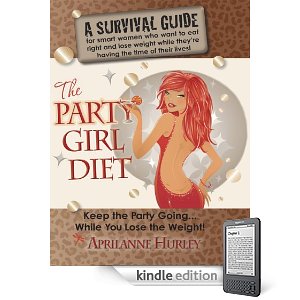 March is National Nutrition Month® – Make your diet and weight loss goals a reality with your FREE Kindle book of The Party Girl Diet on Amazon.com on Wednesday, March 13, 2013.
While nutrition is always a hot topic in the national news, March is National Nutrition Month® – and the perfect time to focus on where you are with your nutrition goals for you and your family.  It's also an excellent time to reinvent the way you manage your own diet and weight loss goals.   For instance, if you don't have some short term and long term health and fitness goals set, this is the perfect time to put your "new you" plan together and in motion.  According to the Academy of Nutrition and Dietetics:  
"The 'Eat Right, Your Way,  Every Day' 2013 National Nutrition Month® theme encourages consumers to include the foods they love as part of a healthful eating plan that is tailored for their lifestyles, traditions, health needs and, of course, tastes."
This is exciting news, since the Party Girl Diet encourages the same healthy, sustainable lifestyle and way of life.  Fad-diets and yo-yo dieting are discouraged on the Party Girl Diet Plan since research proves weight lost on fad and/or crash diets typically is gained back once the dieter goes "off" the diet.
Below are a few easy ways you can start getting more healthy nutrition and exercise in you life, compliments of The Party Girl Diet' and PGD's 9 Keys to Good Living outlined in the Party Girl Diet Kindle book available on Amazon.com:
Eat a wide variety of colorful foods every day.  Think:  Rainbow.  Aim to eat 5 – 9 servings of fruits and vegetables each day.  If you notice you eat a lot of foods from one color such as green or yellow for instance, switch it up and make a conscious effort to choose more colorful fruits and veggies when you are grocery shopping.
Avoid white foods, such as processed foods made with white flour, sugar, and that contain large amounts of salt.
Practice mindful eating.  Take the time at each meal to sit down, relax, and enjoy your food.  When splurging on a piece of dark chocolate, take a few moments to anticipate how yummy it will taste.  Research shows people enjoyed their treats more when they waited,taking the time to anticipate how good it will taste.
Make time for "playtime."  Set aside time each day for "you."  It may seem a bit selfish at first, yet you will be a better person, parent, friend, employee, boss, etc, if you make the time to honor your own needs for proper nutrition, exercise, fun, rest, and relaxation.
Mind your portions.  Portion control is a key factor in the success of the Party Girl Diet.  While the book outlines some easy ways you can "size up" the right sized portions of everyday foods by "eyeballing it," as a general guide a serving of fish is the size of your hand, a serving of meat is the size of your palm (men double that), a serving of cooked pasta is the size of your fist, and a serving of fat is about the size of a quarter.
Walk this Way.  Walking everyday for even just 10 minutes can improve your health and outlook on life.  Walking 10 minutes 3 times a day will do even more to help you burn calories, increase your metabolism, and energize you to make the most of every day.
Build Muscle.  Building in 20 minutes of weight lifting 3 times a day is a great way to build muscle, stay toned, and increase your metabolism.  The Party Girl Diet book goes into more detail with easy to follow workouts that will have you seeing results – quickly.
Go Green.  Green tea that is.  Research shows you will gain the most benefit when you consume 4 cups of green tea daily, which was the amount of green tea the people in the studies drank.

March is National Nutrition Month® and the perfect time to visit EatRight.org to celebrate the 40 year anniversary of  National Nutrition Month® – with a look at their wide selection of resources to help you get on the right track with your nutrition and healthy living goals.
Until next time…keep the party going ~ Aprilanne
The above article originally appeared in Aprilanne Hurley's San Francisco Nutrition Examiner Column and appears here with re-print permission.