Like The Party Girl Now to Gain Access to delicious recipes – this week's recipe is Authentic Crab Cioppino!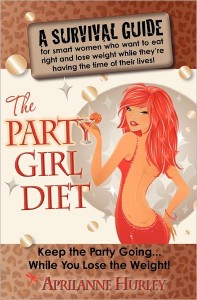 2012 Best Diet Books:  Discover How to Eat More and Lose Weight with The Party Girl Diet's Revolutionary New Lifestyle That "Let's You Keep the Party Going While You Lose the Weight."
Recently featured on ABC, CBS, NBC, and FOX Networks, The Party Girl Diet is a healthy, sustainable lifestyle based on today's groundbreaking nutrition and fitness research.  While the name is fun, the Party Girl Diet is not a fad-diet.  It is a lifestyle that you will want to enjoy for the rest of your life.
This is the perfect time to say good-bye to the deprivation and restrictions of fad diets – and get your Party Girl Diet Book or Kindle and Edition on Amazon – during our 2012 Holiday Season Sale.
Check out ABC 15′s Sonoran Living Lives interview with Party Girl Diet Author Aprilanne Hurley below to find out how you can eat more AND lose Weight with The Party Girl Diet's revolutionary new lifestyle that l"let's you eke the party going…while you lose the weight:"
Fad Diet Expert and Author Aprilanne Hurley counsels, "When it comes to healthy, sustainable weight loss, there is no magic bullet,"  adding,"The good news is, the Party Girl Diet's nutrition and fitness principles create a sound foundation for people to actually stop dieting and start living. PDG's healthy lifestyle allows you to fully enjoy your life and the foods you eat – without the deprivation and restrictions typical of fad-diets.  In essence it allows you to "Keep the party going …and keep the weight off."