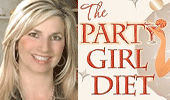 Fad Diet Expert and Party Girl Diet Author Aprilanne Hurley chronicles the history of "Fad-Diets" in her book, revealing some of the most bizarre and unhealthy dieting trends that have plagued the diet-industry as far back as the early 1700′s.
Hurley counsels, "When it comes to healthy, sustainable weight loss, there is no magic bullet,"  adding,"The good news is, the Party Girl Diet's nutrition and fitness principles create a sound foundation for people to actually stop dieting and start living. PDG's healthy lifestyle allows you to fully enjoy your life and the foods you eat – without the deprivation and restrictions typical of fad-diets.  In essence it allows you to "Keep the party going …and keep the weight off."
To help people truly understand the dangers of fad-dieting, below is the first in Aprilanne Hurley's series of 7 articles focusing on each of "The Seven Deadly Sins of Fad-Dieting:"
Deadly Sin of Fad-Dieting #1:  Yo-Yo Dieting's Repetitive Cycle of Weight Loss and Weight Gain.
Losing weight only to gain it back is depressing.  Yet, we're not just talking about "depression" as it relates to one's mental health here.  A strong body of research shows that repetitive weight loss and re-gain or "weight cycling" (depresses) damages the immune system.  To substantiate this discovery, researchers measured the levels of natural killer cells, immune system cells in dieters who repeatedly lost and gained weight, and people who maintained their weight for a few years, and found the level of natural killer cells was reduced in the Yo-Yo dieters.  According to a PHS Study, "Depressed NK activity has been associated with increased cancer incidence as well as an increased susceptibility to colds and infections."  According to researchers, "The women who had yo-yo'd most often — five times or more — had the lowest levels of the killer cells; the highest levels were found among women whose weight had been stable for several years. Even women who had only twice lost large amounts of weight showed a decrease in the cells."
KEY TO HEALTHY WEIGHT LOSS #1:  Hurley stresses that while overweight people will absolutely benefit from losing weight, in order not to gain it back – the key is to change the unhealthy eating behaviors that led to the unwanted weight gain to begin with.  Once an individual understands what their triggers are, be it emotional eating, over-consumption of empty calories, lax portion control, etc., he or she will be able to re-program or "modify" their behaviors in order to gain and maintain a more balanced approach to losing and maintaining weight.
So where does one begin in the quest to eat right and lose weight at a healthy pace?  Hurley says "Understanding what constitutes healthy nutrition is fundamental to success in weight loss and weight maintenance.  It's also critical to know the warning signs of a fad or crash diet."  The American Dietetic Association (ADA) considers a diet to be a fad-diet if it:
Sounds too good to be true, it probably is. "Lose 15 lbs in 7 days!" 
Recommends using a single food on a very consistent basis. 
Promises quick and easy weight loss with no effort. 
Eliminates an entire food group such as carbohydrates or dairy. 
Guarantees an outcome in a specified time period. 
Bases evidence for effectiveness only on the quotes of other dieters. 
Stay Connected with our RSS Feed  for all of Hurley's installments in her "7 Deadly Sins of Fad-Dieting" series, as well as to score great recipes, and fitness & nutrition tips.
In the meantime, Hurley encourages anyone interested in learning more about her Party Girl Diet's revolutionary new lifestyle, and the proven ways lose weight at a healthy, natural pace to contact her @ aprilanne@DietDayNews.com for a complimentary phone consultation.
Aprilanne Hurley is a Certified Specialist in Fitness Nutrition, Author of  The Party Girl Diet, and Health Expert for California Living™ - the Bay Area's original lifestyle show featuring California's trends in food, travel, and healthy living.
Hurley's Party Girl Diet book and Kindle (e-book edition) are available on Amazon.com so you can "Keep the Party Going – While You Lose the Weight."  The Party Girl Diet's revolutionary new diet and lifestyle plan combines today's groundbreaking health and nutrition research with Hurley's penchant for good living to provide a healthy, sustainable plan you will want to enjoy for the rest of your life.