With live TV appearances on ABC, CBS, NBC, and FOX – Party Girl Diet Author Aprilanne Hurley shows how to make healthy living fun & exciting in the country's hottest destinations – Las Vegas, Arizona, Honolulu, and California.
7/31/2012:  Waikiki, Honolulu:  Hurley shakes things up live with KHON-2 Wake Up 2day anchors Oleana Heu and Jai Cunningham demonstrating how you can have fun ~ guilt and alcohol free with The Party Girl Diet's Signature Sparkling Virgin Cosmo, and her custom "Breakfast of Champions" Smoothie formulated to keep your tummy trim…poolside.  Videos and pics for this media event coming soon…
7/2012:  KXTV ABC News 10 Sacramento, CA:  Party Girl Diet Author and Certified Specialist in Sports Nutrition Aprilanne Hurley is back for a fourth time…dishing more healthy party drinks and snacks including The Party Girl Diet's famous Skinny Fudge™ recipe the whole family will enjoy.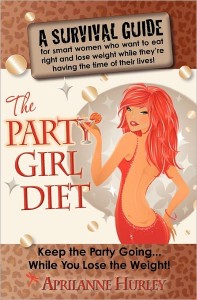 The Party Girl Diet is more than a diet, it's a way of life, Hurley offers.  "On The Party Girl Diet you can enjoy a glass of wine, indulge on dark chocolate, and eat a wide variety of delicious foods." "While some may see this as a virtual 'license to party, Hurley adds, "it is important to emphasize that The Party Girl Diet is not a 'fad-diet' – it is a healthy, sustainable lifestyle you can stay on for the rest of your life.
Special features in The Party Girl Diet book include:  PGD's 3-Day Kickoff Plan to ignite healthy weight losses of up to 5 pounds in 3-days!  "It's the perfect solution when you are looking to drop a few pounds for 'little black dress' season," Hurley offers.
"The major difference between The Party Girl Diet's 3-Day Kickstart Diet and the fad or crash diets on the market is – there are no food group restrictions and deprivation typical of fad-diets."
"The Party Girl Diet's 3-Day Kickstart Diet is the first 'healthy-quick fix' that is scientifically proven to promote fast weight loss!"  "I can't give away all my secrets here," Hurley smiles, "you just have to try it and see the results for yourself!"
Additional features in The Party Girl Diet book include: An 'easy to digest' review of the latest and most trusted nutrition and fitness research, 2-Weeks of delicious 10-Minute Recipes, and The Party Girl Fitness Guide offering easy and effective 10-Minute Workouts.
Say good-bye to the deprivation and restrictions typical of fad-dieting – and say hello to a lifestyle that lets you enjoy your life and the foods you eat – The Party Girl Diet!
Recent destinations on The Party Girl Diet's Big City Tour:  San Diego, CA, Honolulu, HI, Texas, and New York!
Stay Tuned for Details and Party Girl Diet Big City Tour Updates!
About the Author:
Aprilanne Hurley is a Certified Specialist in Fitness Nutrition, Author of  The Party Girl Diet, and Health Expert for California Living TV, the Bay Area's original lifestyle show featuring California's trends in food, travel, and healthy living.
Hurley's Party Girl Diet book and Kindle (e-book edition) are available on Amazon.com so you can Keep the Party Going…While You Lose the Weight!  The Party Girl Diet's revolutionary new diet and lifestyle plan combines today's groundbreaking health and nutrition research with Hurley's penchant for good living to provide a healthy, sustainable plan you will want to enjoy for the rest of your life!
Coming to Amazon 2011: The Sexy Abs Diet by Aprilanne Hurley.  Discover the 7 Secret Weapons to Attaining Sleek, Sculpted, Sexy Abs in One Easy Sexy Abs Diet and Workout Plan!
Aprilanne Hurley SFN is available for personal nutrition consultations.  Contact Aprilanne @ aprilanne@dietdaynews.com, or call 415.209.0722 and "keep the party going!"