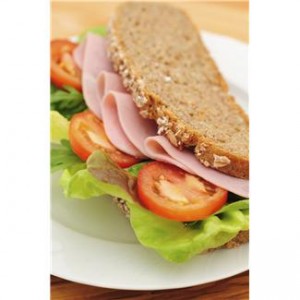 Tired of the "same old same old" when it comes to lunch options?  Get ahead of the weight loss game this week by packing The Party Girl Diet's "Mediterranean Bliss" Sandwich for a healthy alternative to take-out and restaurant food.  
Combined a selection of  the following ingredients in a whole wheat pita bread pocket or high fiber wrap of your choice, or on sliced 100% whole grain bread:
Sliced Avocado:  Avocado is a top source of MUFAs (Monounsaturated fatty acids proven to melt belly fat) also known as healthy fats, and people who consume these fats are more successful at losing weight than those who don't.
Olives:  Add about 4 sliced black olives, which are rich is vitamin E and neutralize the damage from free radicals.
Spicy Salsa:  When prepared with jalapeno peppers  - spicy red salsa will stoke your metabolism for up to three hours after you finish eating.
Sliced Tomatoes:  Tomatoes contain the phyto-nutrient lycopene, which is a cancer fighting agent and an all over healthy food to eat everyday for optimal health and longevity.
Dark green, leafy vegetables:  Romain lettuce is a great choice, and feel free to substitute fresh spinach leaves any time you are looking for a change and a nutritional boost without sacrificing flavor.
Sliced Low-salt Turkey is great to add in – especially if you are looking to build  more protein into your sandwich.  Sliced hard-boiled eggs are also a clean protein option.
Drizzle with olive oil (MUFA) and red wine vinegar, add a dash of sea salt and fresh ground black pepper to taste.
Whole Wheat Bread is packed with fiber that makes you feel full sooner and stays in your stomach longer than most other foods.
The Party Girl Diet's Mediterranean Bliss Sandwich partners great with a colorful side salad, fresh berries for dessert, and a cup of anti-oxidant rich green tea.  Enjoy, and "keep the party going"~ Aprilanne
Aprilanne Hurley SFN, is a Certified Specialist in Fitness Nutrition, Health Expert for California Living TV, and author of  The Party Girl Diet, the revolutionary NEW diet and Lifestyle plan based on the most current health and nutrition research to date – that let's you "Keep the Party Going…While You Lose the Weight!"
Check out our featured news media coverage originally airing live:


Coming this season!  Aprilanne Hurley's Official Sexy Abs Diet Will Provide You with The Latest Science, Foods, Exercises, and Lifestyle Choices That Will Unlock The Secrets to Achieving The Best Abs Possible For Your Individual Body Type.
Hurley's "Sexy Abs Diet is written in an "easy to digest" format so you can immediately apply each of the 7 Secrets into your lifestyle to begin seeing and feeling results in as little as 2-Weeks!
Enjoy your life and the foods you eat while achieving the Sexy Abs of Your Dreams with Aprilanne Hurley's Sexy Abs Diet!
In the meantime, Find out how to "Keep the Party Going…While You Lose the Weight" (and uncover those sexy abs just waiting to be seen) with Aprilanne Hurley's Party Girl Diet – available on Amazon.com!
Stay Connected with our RSS Feed  for more great recipes, nutrition tips and pre-order info/release date for Hurley's Official "Sexy Abs Diet" – thanks!
Buy your copy of The Party Girl Diet on Amazon today so you can "keep the party going…and keep the weight off!