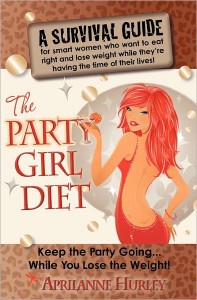 11/16/2011 Waikiki, Honolulu, HI – INSIDE LOOK TV  LLC/ Author Aprilanne Hurley Shares Her Secrets to Healthy Living With Members of Partners in Care Hawaii During Their 2011 Statewide Homeless Awareness Conference.
What does homelessness, hunger issues, and a fun diet book like the Party Girl Diet have in common? "Everything," offers author Aprilanne Hurley who entertained an audience of over 250 people in Waikiki, HI with her lecture series:
"Looking Out for Number 1 – A Survival Guide For People Who Put the Needs of Others Before Their Own."
"The people attending this Homeless Awareness Conference are the people working on the front line of the hunger and homelessness issues, and are the people caring for and serving the needs of Hawaii's homeless population," Hurley adds.
"The type of person who dedicates their career time and efforts to help others in this un-selfish way are the type to overlook their own needs in order to help others less fortunate in all aspects of their lives."
To convey her message – Hurley used an analogy that "just like the safety videos on the plane recommend – you should have your own air-mask in place before you try to help others."  "The Party Girl Diet's 9 PRICELESS Keys to Good Living™ are your air-mask, offering easy and completely FREE ways you can live a healthier, happy , and longer life."
"I really would like to thank the Conference Director and Director of Weinberg Village Waimanalo – Holly Hollowach, who orchestrated an amazing and motivational day of guest speakers – including Hawaii's Governor Neil Abercrombie - who spoke during the luncheon.  "Hawaii is very fortunate to have such a compassionate, distinguished, and entertaining man at the helm," Hurley notes.
"The reception to my talk and the Party Girl Diet book was overwhelming," Hurley admits.  "I offer a message that hits home for a lot of people – which is, "if you don't take care of yourself – who will?"
"I have a fun job" Hurley smiles – "I get to tell people it's okay to have fun, relax, and enjoy yourself – everyday – it's good for you, your health, your mood, and the health and happiness of those around you!"
"Moderation and balance are naturally the key here – we hear it all the time – everything in moderation, and that goes double for work and a stress.  Relax, laugh, play, and be good to yourself everyday – and keep the party going!  Aloha!"
100% of the net-proceeds of The Party Girl Diet books sold at the conference will support The Weinberg Villiage Waimanalo's L.E.A.P Fund – an Enrichment Program for the Children of Oahu.
Aprilanne Hurley is a Certified Specialist in Fitness Nutrition, author of The Party Girl Diet, and Health Expert for California Living, the Bay Area's original lifestyle show featuring California's trends in food, travel, and healthy living.  The Party Girl Diet is the Revolutionary New Diet and LIfestyle  is available on Amazon.com …so you can "Keep the Party Going…While You Lose the Weight!"  Look for Aprilanne Hurley's Sexy Abs Diet coming to Amazon Soon so You can Sculpt Strong, Sexy Abs in Just 2-Weeks!
Email your nutrition, dieting/weight loss questions to aprilanne@dietdaynews.com .