Hungry for a great diet book deal?  Keep the party going…while you lose the weight™ with The Party Girl Diet™ book by Aprilanne Hurley SFN, CFLC, Certified Specialist in Fitness Nutrition, Certified Lifestyle Fitness Coach AND score your FREE Kindle Edition of The Party Girl Diet™  with Amazon's "kindle matchbook" program – which entitles all past and future Party Girl Diet™ book purchasers a FREE Kindle/E-book edition of The Party Girl Diet™ .
Party Girl Diet™ invites you to create a Win-Win for everyone on #GivingTuesday and throughout the holiday season with the AmazonSmile program.  Amazon will donate a percentage of your purchases to your favorite participating charity when you shop at Smile.Amazon.com!
Using AmazonSmile is free and easy and you can access AmazonSmile through your existing Amazon account!
Amazon's " book bundling" MatchBook program allows authors and publishers to offer heavily discounted or even FREE Kindle editions of their print books to past and future purchasers.
You can start reading The Party Girl Diet™ book within minutes with your Kindle edition on any Kindle device - OR on your PC, Mac, iPad, Android tablet, and mobile phone with a free Kindle Reading App.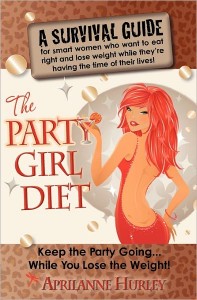 We can't stress enough how excited we are to be able to offer FREE Kindle E-Book Editions of The Party Girl Diet™ to people who have already purchased The Party Girl Diet through Amazon.com.  That's right.   If you have already purchased the paperback form in "new" condition of The Party Girl Diet you will be eligible to claim a FREE Kindle/E-book Edition of The Party Girl Diet on Amazon.com today.
How to score your FREE Party Girl Diet Kindle/E-book edition:  
Go to the Party Girl Diet Book Page on Amazon.com
 and you will see the following promotion to let you know The Party Girl Diet is participating in Amazon's new kindle matchbook program – proceed to either buy a "new" Party Girl Diet paperback book and get the Kindle edition FREE – or claim your FREE Kindle edition if you purchased the Party Girl Diet on Amazon.com:
If you buy a new print edition of this book (or purchased one in the past), you can buy the 
Kindle edition
 for FREE. Print edition purchase must be sold by Amazon. 
Learn more
.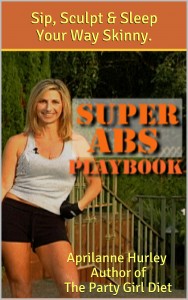 Also check out Aprilanne Hurley's
Super Abs Playbook™
 - Your sexy abs diet and workout guide to "Sip, Sculpt & Sleep Your Way Skinny," and the 
Socialite Diet™
Kindles available on
Amazon
!