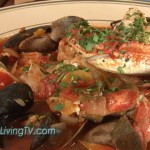 Party Girl Diet™ author and TV personality Aprilanne Hurley loves recipes that have a "story," and shares the following coveted recipe for authentic San Francisco Crab Cioppino Recipe.
We are told Sam's Anchor Cafe's Crab Cioppino Recipe is the original recipe created in the early days of Sam's Anchor Cafe, and has only been modified slightly over the year to make preparation, for instance the crab is cracked and the crab is picked out of the shells ahead of time to enhance the diners eating pleasure.
Authentic San Francisco Crab Cioppino Recipe
The following recipe was originally featured on CALIFORNIA LIVING® with host Aprilanne Hurley and is compliments of the famed Sam's Anchor Cafe located in the storybook town of Tiburon, Calif. on the San Francisco Bay waterfront.
Perhaps one of the most famous San Francisco seafood dishes, authentic Crab Cioppino is the perfect dish to make ahead & serve A crowd this holiday season:
Ingredients:
1/4 cup olive oil
6 prawns
8 clams
8 mussels
6 ounces fresh fish(salmon or halibut)
1/2 cup diced red bell pepper
1/2 onion, diced
1/2 tomato, diced
2 tablespoons minced garlic
1 tablespoon chili flakes
1 tablespoon chopped basil leaves
1 tablespoon chopped oregano leaves
1 tablespoon chopped rosemary leaves
1 tablespoon chopped parsley leaves
4 cups lobster stock (can purchase lobster stock, base, or substitute low sodium vegetable or chicken broth)
2 cups tomato puree
Salt Freshly ground black pepper
8 ounces fresh picked crab
Directions: In a large pot, heat olive oil over medium heat. Add the prawns, clams, mussels, fresh fish, red pepper, onion, tomato, garlic, chili flakes, basil, oregano, rosemary, and parsley and cook for 2 minutes. Add the lobster stock and then stir in the tomato puree. Cook until the clams and mussels open and sauce thickens, about 15 to 20 minutes. Season with salt and freshly ground black pepper. To serve, ladle into 2 bowls and garnish with crab.  Enjoy! Aprilanne
Aprilanne Hurley is a Certified Specialist in Fitness Nutrition, Certified Lifestyle Fitness Coach, Author of  The Party Girl Diet, and series creator/host of  California Living®, California's premiere lifestyle show delivering the Insider's Guide to California food, travel, and healthy living.
Hurley's media credits include LIVE appearances on ABC, CBS, NBC and FOX Networks to discuss her revolutionary diet and lifestyle that lets you "keep the party going…while you lose the weight."
Hurley's Party Girl Diet book and Kindle (e-book edition) are available on Amazon.com.
Party Girl Diet™ author Aprilanne Hurley's media credits include live appearances on ABC, CBS, NBC and FOX Networks to discuss her revolution new diet and lifestyle that lets you "keep the party going…while you lose the weight." Hurley, a Certified Specialist in Fitness Nutrition and Certified Lifestyle Fitness Coach is available for personal diet, nutrition, and lifestyle consultations.   Contact Aprilanne with your nutrition and lifestyle questions @ aprilanne@partygirldiet.com, to"keep the party going…and keep the weight off."
Check out our FUN video dishing how you can get a FREE Kindle Edition of the Party Girl Diet™ with book purchase through Amazon's "kindle matchbook" program so you can "keep the party going and keep the weight off" this season: