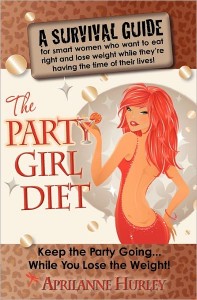 While the concept of "going on a diet" when the New Year rolls around seems a bit cliche, Aprilanne Hurley's Party Girl Diet ™ is extraordinary when it come to revealing diet and lifestyle secrets proven to help you lose weight without the deprivation and restrictions of most "diets" out there.
Keep the party going with the Party Girl Diet ™ this season
For starters, the Party Girl Diet ™ gives you permission to enjoy your life and the foods you eat.  Say goodbye to counting calories, measuring out portions and basically focusing on all the negative aspects of food and dieting that come along with most "diet".  On the Party Girl Diet ™ – you can indulge on a wide variety of delicious foods, drink wine, eat chocolate…and essentially "keep the part going while you lose the weight."
Say hello to a healthy, new lifestyle in the New Year…
with the Party Girl Diet™
Now while the name is fun, the Party Girl Diet ™ is not a fad or "crash diet.  It is a healthy sustainable lifestyle based on trusted research and nutrition facts – combined with diet and lifestyle choices of the healthiest and longest living people from around the world.
So what have you got to lose?  Get your copy of the Party Girl Diet ™ today and score your FREE Party Girl Diet ™ Kindle/E-book edition!  Simply Go to the Party Girl Diet ™ Book Page on Amazon.com and you will see the following promotion to let you know The Party Girl Diet ™ is participating in Amazon's new kindle matchbook program – proceed to buy a "new" Party Girl Diet ™ paperback book and get the Kindle edition FREE.
If you buy a new print edition of this book (or purchased one in the past), you can buy the 
Kindle edition
 for FREE. Print edition purchase must be sold by Amazon. 
Learn more
.