Check out the iMovie Trailer above for the Party Girl Diet's NEW Super Abs Playbook – Your Play-by-Play Game-Plan for seriously flat, sexy abs in just weeks  -now available in Kindle Edition/E-book on Amazon.com.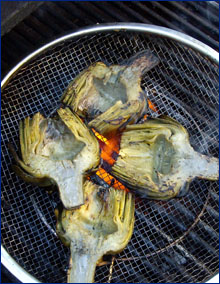 Party Girl Diet™ author Aprilanne Hurley dishes her signature "Never go hungry diet party foods" like healthy burgers, wings and even pizza – for the 'hungry party girl on diet' looking for healthy party recipes you can enjoy on a diet.  This is the perfect season to "get your grill on party girl" with the Party Girl Diet™ secrets to grilling up:
Healthy Party Girl Diet burgers with a secret fat burning secret (Below)
Party Girl Diet Sweet & Spicy Wings for flat, sexy abs
Party Girl Diet Grilled Pizza…and the Party Girl Diet's tasty grilled artichokes recipe featured below:
Artichokes are a super healthy, flat, sexy abs promoting Party Girl Diet vegetable that are:
Low calorie
High in fiber
Low carbohydrate
Low in saturated fat…and absolutely delicious…
Keep in mind, the artichokes need to be *prepared and cooked first – before grilling.
Below is The Party Girl Diet's super easy and delicious Grilled Artichoke Recipe (Bonus:  The Party Girl Diet "never go hungry diet' Grilled Artichokes Recipe also promotes flat, sexy abs!):
Makes 4 servings
Total Time:  Approximately 50 minutes
Active Time:  Approximately 30 minutes
Ingredients:
4 Cooked Globe Artichokes
Extra Virgin Olive Oil to cook artichokes in plus some for brushing artichokes (about 1/2 cup or more)
1 cup dry white wine
1 teaspoon garlic powder
Sea Salt and fresh cracked pepper to taste
Juice of 2 fresh lemons
Fresh herbs and spices for olive oil dipping sauce
Method:
Preheat grill to medium heat
Slice cooked  artichokes in half lengthwise
Scoop out the choke (prickly part above heart) and first few inner layers in the center until the bottom is revealed.
Brush each half with oil and sprinkle with salt and pepper.
Place artichokes on grill face down, and grill the until char marks appear – about 5 minutes per side.
Arrange grilled artichokes face up on a large serving platter.
Squeeze half a lemon over them.
Garnish with the remaining lemon half cut into 4 wedges.
Be sure not to over grill them – or they will get too crispy and hard.  Serve warm with a small side of extra virgin olive oil infused with your favorite fresh herbs and spices for dipping if desired.
The Party Girl Diet's Grilled Artichokes can also be served at room temperature, or chilled.  Enjoy… and until next time ~ keep the party going!
NUTRITION HIGHLIGHTS:  
Who knew getting sexy abs could be so delicious?  At only 109 calories per serving – The Party Girl Diet's healthy, tasty grilled artichokes are low in fat at 4 g  (1 g sat , 3 g mono), have zero cholesterol; 5 grams of protein, and 17 g of carbohydrates…which is really only 8 grams of  net carbs after subtracting the whopping 9 grams of fiber per serving!
Hungry for more great tasting Party Girl Diet Recipes?  You may also like to include some or all of the following PGD recipes on your Memorial Day Weekend BBQ Menu:
Party Girl Diet's Sweet n' Spicy Chicken Wings Recipe
Party Girl Diet's Sexy Abs Artichoke Salsa
Party Girl Diet's Skinny Fudge – a no-bake, lower fat treat
Party Girl Diet's Sparkling Virgin Pomegranate Sangria Recipe
Aprilanne Hurley's media credits include LIVE appearances on ABC, CBS, NBC, and FOX Networks to discuss The Party Girl Diet's healthy new diet & lifestyle that lets you "lose weight while you are having the time of your life."
Order your copy of The Party Girl Diet Book and get the Kindle Edition FREE on Amazon.com today!
*Quick Look at How to prepare and cook artichokes:
Trim off leaves from the top of an artichoke.
Remove the outer layer of leaves from the stem end
Snip off spiky tips from the outer leaves of the artichoke with kitchen shears.
Trim about an inch off the bottom of the stem and if desired, use a vegetable peeler to remove the fibrous outer layer.
Place the prepared artichokes into pot of water with a splash of olive oil, juice of 1/2  a lemon,  and 1 cup white wine (optional).  Bring water to a boil.
Boil the artichokes until the base of the stem is soft when pierced with a fork (approximately 30 minutes give or take – test for doneness about about 15 minutes into cooking).
Once cooked, be careful – the artichokes will be hot!  Transfer artichokes to to a cutting surface and let cool before handling, about 5 -10 minutes.  Your artichokes will be ready to serve  - or grill according to the directions above ~ Enjoy!