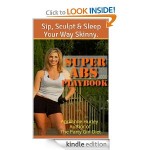 Receive a FREE Kindle E-book of The Party Girl Diet's Super Abs Playbook on Amazon!
Stress – it's a part of life. Add on the recent "shelter at home" quarantines and working from home – and all of a sudden you may be finding it hard to get your regular workout in. All of this change we're dealing with can also make sticking to your normal diet more difficult.
That's why Party Girl Diet book series author Aprilanne Hurley has made it possible for you to order the Super Abs Playbook Kindle E-book Edition for FREE on Amazon.com!  This offer is available under the "Kindle Unlimited" Program which is allowed to run for 5 days – ending on Thursday, April 2, 2020, at 11:59 PM.
Sip, Sculpt and Sleep Your Way Skinny with the Party Girl Diet's Super Abs Playbook:
 Strengthen & build your core muscles at home

Access the Super Abs Workout On-Demand

Check out easy & delicious recipes to support good bacteria in your digestive track

Learn about innovative ways to encourage restful sleep, a key component to overall health & wellness

Find out how to balance your appetite hormones for optimal health & vitality. 
Want to get started on scoring sexy abs right now?  Get your free copy of the Super Abs Playbook on the link above – AND check out Aprilanne Hurley's Super Abs Playbook's Sexy Abs Workout On-demand – which originally aired on California Living® TV in the San Francisco and Sacramento Broadcast TV Markets.
Plus, enjoy a FREE Kindle E-Book Edition of The Party Girl Diet with book purchase, made possible through Amazon's Kindle matchbook program:
Aprilanne Hurley is Certified in Optimal Health, Wellness and Sports Nutrition, a Certified Lifestyle Fitness Coach and the author of the Party Girl Diet Book Series available on Amazon.  Hurley's media credits include live appearances on ABC, CBS, NBC, and FOX Networks to share her Party Girl Diet's healthy and sustainable lifestyle that let you "Keep the party going…while you lose the weight".