Party Girl Diet Skinny Fudge™ is the perfect lower fat, guilt free treat to enjoy when you find yourself "hungry on a diet" and craving something sweet to eat.  Party Girl Diet Skinny Fudge is also a super easy no-bake recipe to make for the perfect hostess gift this season.  
Really, if  it seem like you are always the girl on the "I'm hungry diet" at parties and family gatherings it can be a scary world out there when it comes to finding "healthy" party food and treats to eat.
Check out The Party Girl Diet's line-up of healthy holiday fare such as:
Sweet n' Spicy Baked Party Wings
Party Girl Diet Sexy Abs Diet Guacamole
In addition to numerous other Party Girl Diet recipes,  PGD's Skinny Fudge™ Recipe has been featured on KGMB and KHNL's Hawaii News Now Sunrise  as a healthy, lower-fat dessert your whole family can enjoy.  
Click here for the inside look at the health benefits of dark chocolate. 

The Party Girl Diet's Skinny Fudge is 1 of 2-Weeks of tasty, skinny, 10-Minute recipes in The Party Girl Diet Book available with FREE 2 Day Shipping on Amazon with your Amazon Prime Account.
Gift the gift of healthy Party Girl Living:   As a participant in Amazon's kindle matchbook program, The Party Girl Diet Kindle/E-Book Edition is FREE with book purchase.
Taking  only 10 minutes to prep ~ The Party Girl Diet's Skinny Fudge Recipe Is The perfect dessert to make for a last minute party or hostess gift.
Now while this should not be considered a "diet food," The Party Girl Diet's Super Skinny fudge is drastically lower in fat than traditional fudge recipes as it substitutes fat-free sweetened condensed milk for the higher fat versions.  Plus its an easy no-bake dessert that only takes 10 minutes to make (plus chilling time).
PGD' s  Skinny Fudge makes a great hostess gift on its own, and an especially nice presentation when paired with a bottle of red wine ~ Enjoy…
THE PARTY GIRL DIET'S SKINNY FUDGE
Prep Time:  10 Minutes.  Makes about 2 pounds of fudge (28 servings)
Ingredients:
3 cups (18 ounces) semi-sweet chocolate chips or dark chocolate chips (There are sugar free chocolate chips available if you want to control your sugar intake, however the sweetened condensed milk in this recipe, although fat free, does contain sugar)
1 (14 ounce) can Eagle Brand, or other brand variety of Fat Free Sweetened Condensed Milk.
Dash of salt
1  ½ teaspoons vanilla extract
To make The Party Girl's Skinny Fudge:
1.   Combine chocolate chips, fat free sweetened condensed milk, and salt in a heavy saucepan, and cook over low heat until chips are completely melted, stirring frequently.   Remove from heat, and stir in vanilla.  Spread mixture evenly into a wax paper lined 8 or 9- inch square pan.   This is an important step as the fudge will stick to the sides and bottom of the pan and will not come out smoothly without a fight otherwise!
You can also use saran wrap's "cling" wrap, which is what I used to make the fudge in the photo above.
2.   Chill 2 hours or until firm, Turn fudge pan upside down onto cutting board, and peel off the wax paper.  Cut into squares, and arrange on a party dish, or in a gift box for giving.  Store leftovers covered in the refrigerator.
Variations:  Be creative – while the chocolate mixture is still warm from the stove – mix in some walnuts and mini-marshmallows (pictured above) to make a Rocky Road variety, or add some crushed candy canes for a fun and festive holiday version!
You can have all of the ingredients to make this fudge recipe in at all times so you can whip up a batch of delicious Party Girl Diet Skinny Fudge to bring along to those last minute party invites as a yummy hostess gift everyone will love!
Craft stores sell plain white candy boxes that can be personalized with a special sticker or fancy ribbon, which will add an elegant touch to your gift for giving.
You can also make this fudge recipe in the microwave, yet be sure to use a *glass bowl, not plastic and only heat to melt chips a few minutes at a time, stirring after each time, to be sure you do not burn the mixture.
*For health reasons – you should never cook with plastic containers in the microwave.
The Party Girl's Skinny Fudge – while lower in fat and containing dark chocolate that offers health benefits from the flavonols, should not be considered a diet food.
In general, it is a good practice to substitute lower fat, fat free, and natural sugar free options for the full fat and high sugar ingredients in your recipes, which will help cut down your consumption of fat, sugar, and in some cases calories as well, which will allow you to enjoy more of the foods you love with less of the guilt! Aprilanne
The Party Girl Diet's Skinny Fudge Recipe is one of 2-Weeks of Easy, Tasty, & Healthy 10-Minute Recipes in The Party Girl Diet Book available on Amazon!  Order your copy of The Party Girl Diet on Amazon.com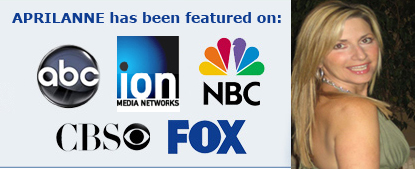 Aprilanne Hurley SFN is a Certified Specialist in Fitness Nutrition, Certified Lifestyle Fitness Coach, author of The Party Girl Diet, and series creator and host of  California Living™ - the Bay Area's original lifestyle show featuring California's trends in food, travel, and healthy living.  Hurley's new book,  The Party Girl Diet is a healthy, sustainable lifestyle plan combining today's groundbreaking health and nutrition research with Hurley's penchant for good living to deliver a revolutionary new diet and lifestyle that lets you  "Keep the Party Going" While You Lose the Weight."