Aloha Diet creator and Party Girl Diet author Aprilanne Hurley dishes a sneak peek at the Aloha Diet Hummus Dip Recipe inspired by the delicious Hummus Plate on the menu at the

Modern Honolulu Sunrise Pool Bar

.
"I've had the pleasure of staying at the Modern Honolulu close to a dozen times during my live TV media tours in Hawaii," offers Party Girl Diet™ author and Aloha Diet™ creator Aprilanne Hurley, adding, "In addition to their incredible beach access location, sizzling nightlife and movie scene worthy pools, the food and drink offerings at the Modern Honolulu are simply top-notch."

"Every Aloha Diet ™ recipe has a rich, delicious story to be shared."

In Hurley's upcoming book, The Party Girl's "Aloha Diet," Hurley shares renditions of her favorite dishes from many of the Hawaiian Islands she visited on The Party Girl's Aloha Diet Discovery Tour.  Here, you get a sneak peek at the Aloha Diet's healthy Hummus dip recipe, and servings suggestions based on the ono (delicious) presentation the Modern Honolulu offers guests on their Sunrise Pool menu.
Score the perfect party dip recipe that will satisfy the "hungry" in you when you are looking for a healthy and delicious party dip for veggies and baked chips.
Hurley notes, "One of the health benefits of making the Aloha Diet Hummus Dip is, you are in control of everything that goes in it, so there are no hidden fats, extra salt or added calories in the following Aloha Diet Hummus Recipe like you may find with some store bought varieties."  Plus, Hurley adds, "Party Girl Diet fans know, there's a certain amount of satisfaction and sense of accomplishment that comes with making your own delicious meals, party snacks and treats at home."
You just need to have on hand 4 simple ingredients plus a dash of sea salt and you will be on your way to making Aloha Diet Hummus:
Aloha Diet Hummus Spread
Serves 4
Ingredients:
1 cup garbanzo beans (Chickpeas)

1 tbsp. seasame seel oil

3/4 tsp. lemon juice

1/2 clove fresh garlic

Sea salt to taste
Method:
Mix all ingredients in a food processor (or blender).

Add a few drops of water or cocnut water to thin mixture as needed or desired.

Cover tightly and refrigerate overnight.
Serve as a healthy party dip for your favorite fresh-cut veggies, and as a delicious Modern Honolulu inspired Hummus Platter Spread (Pictured top right) with Pita or Naan Flat Bread alongside:
Feta Cheese chunks
Greek olives
Roasted garlic cloves
You can also use the Aloha Diet Hummus Spread as a protein rich replacement for mayo on sandwiches.
Aprilanne Hurley SFN, CLFC  is a Certified Specialist in Fitness Nutrition, Certified Lifestyle Fitness Coach, author of The Party Girl Diet, and the series creator and host of  California Living® - California's original lifestyle TV Magazine format show featuring California's trends in food, travel, and healthy living.  Hurley's Party Girl Diet book series offers people who want to enjoy their life and the foods they eat a variety of healthy, sustainable lifestyle plans that lets you "Keep the Party Going" While You Lose the Weight."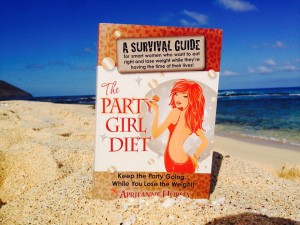 Special Amazon Free Kindle Edition with Book Purchase Offer:
Purchase the Party Girl Diet™ book and receive a FREE Kindle/E-book Edition of the Party Girl Diet™ compliments of Amazon's Kindle Matchbook Program.  Order your copy of The Party Girl Diet on Amazon.com