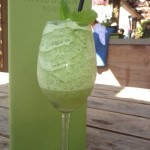 Party Girl Diet author Aprilanne Hurley brings you a taste of Aloha with her skinny Party Girl Diet version of the Modern Honolulu's Frozen Coconut Mojito in anticipation of her new book – the Aloha Diet, coming to Amazon this year.
If you like the sweet taste, and cool, creamy texture of popular blended drinks such as the Modern Honolulu's Coconut Mojito, you'll love the way we've cut down some of the fat and sugar in it so you can "keep the party going…and keep the weight off."
No Sacrifice Nutrition Trade Offs
The key is to replace the Horchata (Rice milk made with sugar and cinnamon) with light Coconut Milk, which only has 1 gram of sugar per serving and is very, very low in fat.  Definitely add a dash of cinnomon – which is calorie free and helps balance blood sugar.
To make it a "Virgin" Coconut Mojito, replace the coconut rum with pineapple juice.
To make the drink a bit more healthy, replace the coconut syrup with a (natural) sugar free variety, reduce the amount of coconut syrup used, or eliminate it completely.
Keeping these skinny Party Girl Diet nutrition switch-offs in mind – check out how to make The Modern Honolulu's Frozen Coconut Mojito in the unedited iPhone video below ~ with Party Girl Diet Author Aprilanne Hurley and Modern Honolulu Mixologist ZaZu:
Aprilanne Hurley  is Certified in Optimal Health, Wellness and Sports Nutrition through San Diego State University, and has received certifications as a Specialist in Fitness Nutrition, and Lifestyle Fitness Coaching.
Aprilanne Hurley is the author of The Party Girl Diet, and the Health Expert for California Living® - a dynamic 11 year running Broadcast Television show featuring California's trends in food, travel, and healthy living.
Hurley's media credits include LIVE TV appearances on ABC, CBS, NBC and Fox Networks to share her Party Girl Diet secrets, healthy lifestyle tips and deleicious recipes with viewers.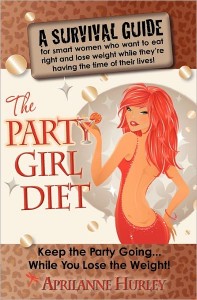 Hurley's popular Party Girl Diet is a healthy, sustainable lifestyle plan combining ground breaking health and nutrition research to deliver a revolutionary new diet and lifestyle that lets you  "Keep the Party Going" While You Lose the Weight."
BONUS:  Purchase the Party Girl Diet on Amazon.com and receive the Kindle Edition FREE through Amazon's Kindle Matchbook Program.
PLUS – Stay tuned for Aprilanne's Hurley's new book – the Aloha Diet coming to Amazon this year.